In rare visit with Castro, Jimmy Carter attempts to restart US-Cuba relations
During his three-day trip to Cuba, former President Jimmy Carter also met with detained American Alan Gross, who was sentenced this month to 15 years prison for espionage.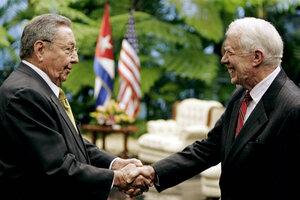 Javier Galeano/AP/Pool
Santo Domingo, Dominican Republic
Former US President Jimmy Carter aimed to hit all the right points on a three-day trip to Cuba. He sat with revolutionary icon Fidel Castro and his brother Raúl, and met today with leading Cuban dissidents, calling attention to the human rights and political issues that have long been at the center of stalled US-Cuba relations.
But Mr. Carter was unable to resolve a key sticking point between the Castro regime and Obama administration: the release of jailed US contractor Alan P. Gross.
While that, in itself, was enough to cast Carter's trip as a disappointment, analysts say Mr. Gross's release would not likely have provided the impetus for a major turning point in relations that were severed 50 years ago.
IN PHOTOS: Cuba's underground economy
"Even if Carter had returned with Alan Gross, I don't think it would have caused a fundamental shift in relations between the countries," says Jana Lipman, a professor at Tulane University who has studied relations between the countries. "The status quo has been a strong barrier to the improvement of relations between the US and Cuba for a long time."
Arrested in December 2009 while working on a US government project, Gross received a 15-year prison sentence earlier this month for bringing satellite communications equipment to Jewish groups in Cuba, which the government called espionage.
---