Upwardly mobile in Brazil: Pedicures as a path from Rio slum to a mortgage
How one woman in Brazil used her high school education as a way out of poverty. Already, universal education has boosted half the Brazilian population into the middle class.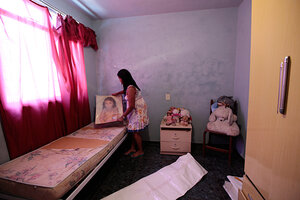 Chantal James/Special to The Christian Science Monitor
A paper cap corralling her long, curly hair and a white paper mask muffling the lilt of her salon gossip, Meire adjusts a neon ring of light and peers businesslike at the calloused foot of a client lying on a white leatherette recliner. Pedicures are serious business in this mecca of sun worship and sandals.
As lowly a job as it may seem to bathe, poke, pluck, and massage other people's feet, this job is golden. It has boosted Meire up the socioeconomic ladder and out of the slums: By serving the middle and upper classes in her cubicle at Ipanema's Spa do Pé (Foot Spa), she has herself entered Brazil's burgeoning middle class.
"I love what I do," she often says, as she straightens up from hunching over a client's newly buffed feet. And that's despite a three-hour round-trip bus commute to work five days a week – and frequent house-call detours she makes for extra cash.
Meire, who asked that the Monitor not use her real name for security reasons, is living the middle-class dream that is spreading across the globe. Her income – the equivalent of $1,000 a month – has enabled her to get a mortgage on a small house on a tree-lined street 15 minutes from her parents' home in the giant Jacarezinho favela, or slum. Brazil's middle class, swelling with people like her who have achieved higher levels of education than their parents, is now estimated to include half the nation's population of 191 million. The burgeoning consumer appetite, say economists, buffered the country from the world recession that began in 2008: Unlike the United States and much of Europe, Brazil's economy is booming, with 7.5 percent gross domestic product growth in 2010.
---