Vancouver riots have Canadians blushing
Vancouver riots after the city's Canucks ice hockey team lost Game 7 of the Stanley Cup finals have embarrassed a nation that doesn't see much sports-related violence.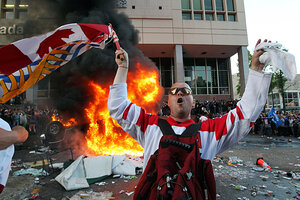 Anthony Bolante/Reuters
Canadians are perplexed, embarrassed, and angry today after the Vancouver Canucks' Stanley Cup loss to the Boston Bruins last night led to post-game riots in one of the country's most beautiful cities.
Although Canadians are stalwart sports fans, violence related to sports is rare in this country and when it does happen, post-riot finger-pointing generally becomes even more popular than hockey.
Even as Vancouver tried to assess the damage, two post-riot Facebook pages were set up, one asking people to tag photos of the rioters to help police track them down and another organizing a city-wide clean-up effort. Media outlets condemned the rioters as "dolts" and "goons."
Matt Gurney, a member of the editorial board for the Postmedia chain of newspapers, says the entire nation was embarrassed by the riots and the international attention it has attracted. [Editor's note: The original version of this story misidentified the newspaper chain where Gurney works.]
"There's nothing cultural about Vancouver that could explain this. It's not a rough industrial city," he says. "It takes a lot to provoke a Canadian so when the rest of us are looking at them and saying, 'You people are idiots,' they have to concede the point."
The fact that the Vancouver Canucks had made it into the Stanley Cup finals was a point of national pride across Canada. The 41-year-old team has never won the Stanley Cup and this was only the third time it had made it to the Stanley Cup finals. Riots in Vancouver also followed the team's previous Stanley Cup loss, in 1994. [Editor's note: The original version of this story misstated the number of times the Canucks made it to the Stanley Cup finals.]
---