Canada Day: William and Kate make their international married debut
The latest polls show Canada is as smitten with William and Kate as the couple seems to be with each other. But will that help them convince Canadians of the royal family's continued relevancy?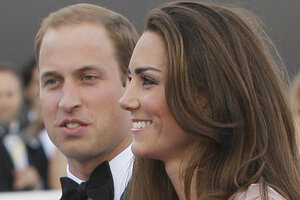 Alastair Grant/AP/File
The Duke and Duchess of Cambridge, popularly known as William and Kate, arrive in Canada on their first international visit today with two goals: to ease the prince and his commoner bride into their public lives as a married couple and to convince their subjects the monarchy is relevant and worth saving.
The first should be easy. Canada has strong ties to the British monarchy and is considered a friendly place for the royal family to visit.
The second will be harder, but not nearly as difficult as it would have been a year ago. The latest polls show the royals have surged in popularity in Canada compared with a year ago, largely because people are just as smitten with William and Kate as the two seem to be with each other.
"The popularity of this couple is global," says Sean Simpson, author of a new Ipsos Public Affairs poll on Canadian attitudes toward the royals. "They are clearly in love and people can see that and that is telling them there is a secure future for the monarchy down the road."
The poll results do not show overwhelming support. Forty-eight percent of Canadians still think the monarchy should be abolished. But that is 10 percent fewer than a year ago, when William's grandmother, Queen Elizabeth II, visited Canada. Mr. Simpson says it is a significant change in a country where the royal family's popularity has been steadily waning.
---