Indigenous in Colombia call for demilitarization
After a bomb exploded in the southern province of Cauca last month, local leaders issued a statement urging both the Colombian government and guerrillas to disarm and leave their communities in peace.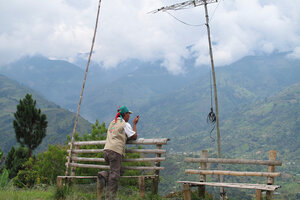 William Lloyd George
On most days Toribio can be described as a sleepy farming town of 4,000. Life revolves around the leafy central square, especially on Saturdays when farmers flock to the market to sell their produce. In recent years the town has been left in relative peace despite conflict raging between guerrillas and the Colombian government in the southern province of Cauca.
That changed on Saturday, July 9.
Like most Saturdays, Sara Munoz was at the bank to deposit money when she heard an explosion outside. She recalls the roof falling down around her, trapping her with her three children. Her father was running their meat stall in the busy market outside and was killed instantly as a gas cylinder from the homemade bomb hit his head. FARC guerrillas, who have waged civil war with the state since the 1950s, had detonated a car bomb outside the police station. While the police station was left intact, 25 homes were destroyed, nearly 500 damaged, and three civilians were killed with hundreds of others injured.
"Many innocent and good people are being caught up in a conflict we have nothing to do with," Ms. Munoz said from her mother's home, a week after the blasts.
While urban Colombia has seen a dramatic decline in politically-motivated violence in the past decade, in recent months the government has increased its military presence here in rural Cauca in order to flush FARC rebels out of strategic mountains where they are believed to be hiding key leaders. Countering the offensive, the FARC have increased bombings, attacks, and assassinations with little care for the native population, say the indigenous leaders who also criticize the Colombian military for establishing bases inside their towns. Colombian think-tank Nuevo Arco Iris has reported a 10 percent increase in attacks for the first half of this year by the FARC compared to the same period last year.
---