Mexico drug war casualty: Citizenry suffers post-traumatic stress
Outwardly, life seems normal; but as drug war kidnappings, extortion, and violence brush closer to the average citizen, experts say, the mental terrain looks like post-traumatic stress.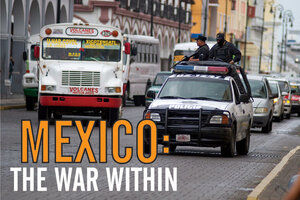 Alfredo Sosa/Staff
It was not a stifling evening, so Carolina Gomez, a pretty and petite kindergarten teacher in this Gulf coast city, turned off her air-conditioning unit and slid open the window over her bed. The tropical breeze lulled her to sleep by 11 p.m.
But not three hours later, she was jolted awake by a rumbling, like rocks being dumped on asphalt. As her head cleared, alarm dawned: The air of her neat middle-class neighborhood was thick with automatic weapons fire and explosions.
Wishing she could hide under her bed, she lay immobile, partly due to a sprained ankle she was nursing and partly assessing her fears: How close was the shooting? Could bullets stray into her window? Worse, could a fleeing gunman enter her home, her bedroom?
Her cellphone rang: It was her parents in the room next door. "Are you OK? Stay put," they advised.
Next, they placed a call to their son, Enrique, who lives on the ground floor of a two-story apartment building next door. "Get in your bathroom," they told him, because there are no windows there.
He and his new wife crouched for 40 minutes on the tiled floor as gunfire continued to pierce the air, interrupted finally by the arrival of authorities in helicopters flying so low that Carolina's father, Sergio, says he saw one pilot's face through his window.
Even now, six months later, the bullet-pocked commercial street six blocks from the Gomez home is a testament to the collateral damage of the drug war – the imprint of fear on ordinary lives and what it can do to the civic fabric, from choices as simple as changing shopping habits to changing the nation's presidential politics.
A culmination of months of creeping insecurity, the April shootout here was a defining moment for the extended Gomez family: They began arranging an escape – to immigrate to Spain.
---