At Our Lady of Guadalupe pilgrimage, Pope's possible Mexico visit ranks second
Vatican sources say that the Pope may soon announce plans to visit Mexico next year. But at Mexico's annual celebration of Our Lady of Guadalupe, reaction was muted.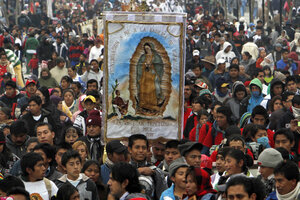 Marco Ugarte/AP
Pope Benedict XVI's tentative plan to visit Mexico in 2012 is meeting with lukewarm reception here on a day when millions of Mexicans celebrate their beloved Virgin of Guadalupe with pilgrimage and prayer.
Vatican sources have said the Pope may confirm a trip to Mexico on Dec. 12, coinciding with the day of the Our Lady of Guadalupe and a mass at the Vatican commemorating the bicentennial of Latin American nations' independence. Mexico celebrated its independence bicentennial in September 2010.
The Vatican confirmed Friday the Pope will visit Cuba in the spring, after mounting anticipation that he would visit a Spanish-speaking country in the New Year. Mexico and Colombia have also extended invitations to the Pope. Benedict XVI has visited Latin America once as pope, when he made a stop in two cities in Brazil in 2007.
But today in Mexico City, the possibility of seeing Pope Benedict on his visit to Mexico ranks as a distant second to what many Mexicans believe to be the country's most important pilgrimage.
---