Snakes on a plane (almost) in Argentina
Authorities in Argentina caught a man trying to board a plane with almost 250 poisonous snakes and endangered reptiles.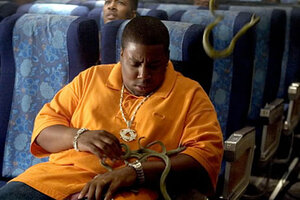 James Dittiger/New Line Productions
A man tried to board a plane in Argentina with almost 250 poisonous snakes and endangered reptiles in his baggage, each meticulously labeled with its Latin name.
Czech citizen Karel Abelovsky, 51, was en route to Spain when airport officials made him open his baggage at Buenos Aires' international airport after police spotted the reptiles in the X-ray scanner. They found 247 exotic and endangered species in all, packed inside plastic containers, bags, and even socks.
Authorities believe the Czech was a courier for a criminal organization that smuggles exotic species whose exports are banned, a judicial source told The Associated Press on Tuesday. Authorities said Abelovsky only arrived in Argentina days earlier and wouldn't have had time to gather all the animals.
Judge Marcelo Aguinsky believes the boa constrictors, poisonous pit vipers and coral snakes, lizards, and spiders could have escaped the cloth suitcase in the unpressurized cabin of the Dec. 7 Iberia flight to Madrid, and perhaps attacked people there or at his final destination in Prague, where antidotes for South American snakes aren't common, the source added.
Abelovsky was released on about $2,500 bail after surrendering his passport and is refusing to talk even though he faces up to 10 years in prison.
Abelovsky runs a Czech website that offers reptiles for sale. A woman who answered the contact number given on the site said she was his wife but did not give her name and said only that her husband was "ordinary."
---
Follow Stories Like This
Get the Monitor stories you care about delivered to your inbox.