Fidel Castro, excommunicated in 1962, meets with Pope Benedict
Former Cuban leader Fidel Castro, who once outlawed religion, met with Pope Benedict XVI today. Benedict's visit is part of a new Catholic strategy in a changing Cuba.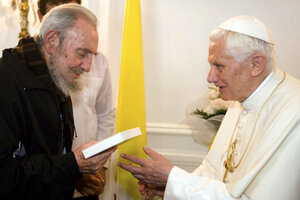 Alex Castro/Reuters
When the late pope John Paul II met with Fidel Castro in Cuba in 1998, the church had high hopes it could help bring fast political change to the island, as his visit had to his native Poland.
That never happened. Poland is a far more Catholic country than Cuba, which was once officially atheist. Only half of Cubans identify as Catholic today, according to Pew, and fewer than 10 percent actually practice.
Nearly 15 years later, as Pope Benedict XVI wraps up a three-day trip to the island, the church is "wiser about the limits of its own ability to catalyze rapid change in Cuba," says William LeoGrande, a Cuba expert at American University.
Instead, he says, the trip – including the visit with Fidel Castro – simply reinforces the strategy the Cuban church has been pursuing: A careful relationship with the government that pushes for more openness and human rights without veering into overt opposition. And while the visit with Fidel Castro lends the former head of state, and his brother and successor Raul Castro, an air of legitimacy, it also underscores how much more of a voice the church has today.
---