The beach: sun, sand, and inequality in the Dominican Republic
Urban, man-made beaches are popping up around the world, but they serve as a reminder of the inequality that can prohibit low-income residents from traveling to parts of their own countries.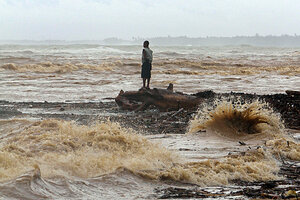 Roberto Guzman/AP/File
Santo Domingo, Dominican Republic
In a country renowned for idyllic Caribbean beaches, crews were busy last week spreading sand around potted palm trees and temporary swimming pools on one of this city's busiest avenues. A 1,000-foot stretch of the seaside George Washington Avenue, known locally as el malecón, was transformed into an urban beach, complete with lounge chairs, beach umbrellas, and volleyball nets.
Santo Domingo Mayor Roberto Salcedo said the four-day installation provided a free excursion for residents too poor to travel to a real beach over Easter weekend, one of the country's busiest travel periods. By Sunday, some 230,000 Dominicans visited.
The concept of trucking in sand to create an artificial beach for city dwellers dates back years and has been tried from Mexico City, which has 10 of them, to Paris, which drew 2.3 million people to its first urban beach in 2002.
While popular, the ersatz beaches also serve as a reminder of the inequality that prohibits lower-income residents from traveling to parts of their own countries that are routinely visited by foreigners, even in a developing country like the Dominican Republic.
"The beach is [a] very political tool – and used simplistically and thus effectively in demonstrating the 'us versus them' debate," says Dorothea Meyer, director of the Tourism and Poverty Reduction Research Unit at the Sheffield Business School in the UK.
Ms. Meyer, who has studied tourism in the Dominican Republic, says an urban beach may win political points – Dominicans will elect a new president this year – but it does little to tear down animosity between locals and foreigners.
Tourist destination
The Dominican Republic, once better known as a sugar producer, has become the Caribbean's most visited destination by offering everything from cheap all-inclusive resort stays to some of the world's best beach hotels.
In 1980, fewer than 400,000 tourists visited the country. Last year, a record 4.3 million foreigners came through its airports.
Along the way, the Dominican Republic developed an infrastructure for tourism, building eight international airports, toll highways, and 67,000 hotel rooms in hotspots like Punta Cana.
That translated into economic growth, as well. Last year, the Dominican economy grew by 4.5 percent after expanding by 7.8 percent in 2010, according to the central bank.
Today, tourism supports some 250,000 direct and indirect jobs and tourists spend upwards of $4.5 billion a year, according to statistics from the Tourism Ministry.
---