Mexican presidential election: Why the left is struggling.
Andrés Manuel López Obrador, the presidential candidate from Mexico's leftist party, is facing an uphill battle for the presidency due to his controversial past and Mexico's unique political history.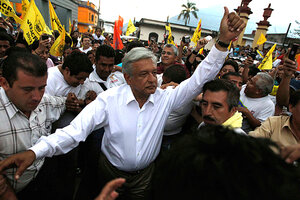 Tomas Bravo/Reuters
San Cristobal de las Casas and Villahermosa, Mexico
Across Latin America, the left – from the fiery nationalism of Venezuela to the more market-friendly left of Brazil – dominates. Even in places where leftists are not in power, they're still a force to be reckoned with.
But in Mexico this election cycle, the left has only recently become competitive, less than a month before presidential elections July 1. After languishing in third place as he struggled to brand himself as a capable leader, Andrés Manuel López Obrador is now in second, though most polls show his rival, frontrunner Enrique Peña Nieto, with a comfortable lead.
Many say the left should be a powerhouse in Mexico, due to the country's vast disparities between rich and poor. But the main leftist party, the Party of the Democratic Revolution (PRD), has never held the presidency.
Mr. López Obrador and his PRD almost won the previous election in 2006, and to some observers, he did. After his defeat he declared fraud and led sit-in protests that brought Mexico City to a standstill, alienating many of his supporters and dividing his party. But the left's uphill battle this year is not just about the controversial candidate it has fielded or internal divisions in the party. The left is also hampered by Mexico's unique history of one-party leadership under the Institutional Revolutionary Party (PRI), which is leading the race today. Founded in the wake of the Mexican Revolution, the PRI wielded socialist rhetoric and a vigorous nationalism that eclipsed and co-opted the message of the left. Put simply, many voters who tilt left in Mexico are drawn to the PRI instead of the PRD.
---