Is Mexico's leading presidential candidate a retreat from democratic progress?
Presidential candidate Enrique Peña Nieto is leading in polls, but he hails from a party that ruled Mexico with a heavy hand for 71 years.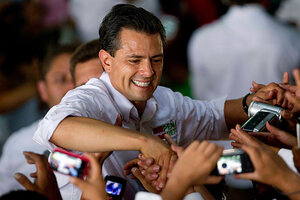 Eduardo Verdugo/AP
Backroom deals. Rigged elections. Pacts with drug lords.
Those are the accusations thrown at Mexico's Institutional Revolutionary Party (PRI) after 71 years in power, an era that Nobel laureate Mario Vargas Llosa dubbed the "perfect dictatorship."
When the PRI lost the presidency in 2000, for the first time since its founding in 1929, there was overwhelming excitement and relief. And yet, just 12 years after Mexico's transition to democracy – amid a public wearied by violence and skeptical about how deep Mexico's democratic transition really was – the PRI seems to be making a comeback.
Now, many are wondering whether a PRI victory in this election would mean that Mexico is retreating from its long march toward democracy. Student protestors have recently taken to the streets and written on social media with fury about the implications of the PRI coming back to power.
The PRI says it is a political party "of today." Its candidate, Enrique Peña Nieto, hails from a younger, more modern generation that cares deeply about democracy, the party says, yet with the PRI's backing he can leverage the party's vast political experience and efficiency to solve the country's deepest economic and security problems.
It's unclear how many Mexicans are buying this message, but polls show Mr. Peña Nieto is out front: Even though his lead has narrowed in the past two weeks, heading into the second presidential debate on Sunday he still enjoys a comfortable two-digit advantage, according to most polls.
"There is a kind of longing for the 'good old days,' when there was corruption but not as much violence," says Lorenzo Meyer, a noted historian in Mexico. "[The PRI was] corrupt but not that inefficient. [Mexicans are saying] 'let us return to good old days of efficient authoritarianism.' "
The historic PRI
The PRI officially came to power in 1929, emerging to organize the political elite after the Mexican Revolution. With its logo the color of the Mexican flag, the PRI became the country's only national party, a top-down, corporatist system handing out power and favors for loyalty. It maintained stability for decades but its legitimacy was increasingly tested during the economic crises of the 1980s and '90s. Following a devastating earthquake in 1985 in Mexico City, the PRI was accused of fudging the death toll, since estimated at about 10,000 and even much higher, and not providing the country aid and support in the immediate aftermath.
The PRI is widely believed to have lost the presidential race to the left in1988, but it claimed victory anyway. And slowly, through prodemocracy marches in the '90s, it began to lose its hold on power. When the conservative National Action Party (PAN) won the race for the first time in 2000, Mexicans gleefully welcomed a new democratic chapter.
But after more than a decade with the PAN in power, Mexicans today are disillusioned with the state of democracy, which many say they believed would have deepened by now. Weak institutions, monopolies that cripple competition and economic growth, and corruption still dominate Mexico, despite the transition to a multi-party political system. In the 2011 Latinobarometro poll, which surveyed 18 countries in the region, Mexico sits at the bottom of the list of countries happy about the state of democracy at home, with only 23 percent saying they are satisfied.
Among the top concerns of Mexican voters is the 50,000-plus drug-related deaths under the PAN's watch, largely attributed to its military-focused policy to counter drug traffickers. The PRI is widely thought to have made pacts with traffickers during its reign, which allowed corruption to flourish but kept violence in check.
So between "second-rate" democracy, says Mr. Lorenzo, or a perception that the PRI can bring back peace, Mexicans like Juan Zamora choose the latter. "I am not saying they are not going to rob, but I do think they will bring stability," says Mr. Zamora, a taxi driver in Mexico City.
---