How Latin America is reinventing the war on drugs
Frustrated with US dictates, countries across the region are floating new ideas to curb drug trafficking, from 'soft' enforcement to legalization.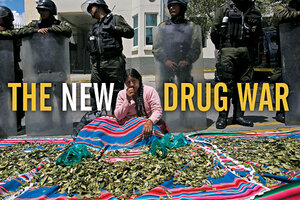 Juan Karita/AP/File
Mexico City; and Cochabamba, Bolivia
Like thousands of other Bolivians, Marcela Lopez Vasquez's parents migrated to the Chapare region, in the Andean tropics, desperate to make a living after waves of economic and environmental upheaval hit farming and mining communities in the 1970s and '80s.
The new migrants, who spread across the undulating green hills here, planted bananas. They planted yucca and orange trees. But it was in the coca leaf that thrives in this climate that they found the salvation of a steady cash crop – and themselves at the nexus of the American "war on drugs."
The coca leaf has been sacred in Andean society for 4,000 years and is a mainstay of Bolivian culture. It is chewed by farmers and miners, enlisted in religious ceremonies, and used for medicinal purposes. "The only resource for maintaining our families is the coca leaf," says Ms. Lopez Vasquez. "With coca we maintain our families: We dress ourselves, take care of our health, and educate our kids."
Coca is also used to make cocaine. To American society, from White House officials to worried parents, the nation's drug problems start in places like the back fields of the Chapare, where neat rows of coca's spindly bushes, bursting with bright green leaves, stand head high. Bolivia is the world's third largest grower of coca, behind Colombia and Peru.
---