Uruguay takes 'war on drugs' in new direction: The state as dealer
The South American country is proposing a state monopoly over marijuana in part to curtail drug-related violence. But it's getting pushback – even from those in favor of legalization.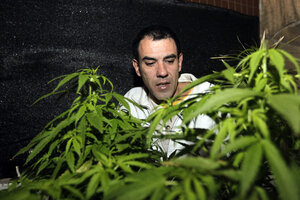 Andres Stapff/Reuters
Uruguay has long been at the vanguard of social reform in Latin America. Today, it is on the verge of passing into law one of its most radical ideas yet.
The Broad Front – the center-left coalition that holds power – is proposing a state monopoly over the production and distribution of marijuana, making Uruguay the first national government to sell cannabis directly to citizens. The government says the measure is necessary to combat rising drug-related crime, decrease health risks for users, and counter ineffective US policies on drugs. But within Uruguay, interest groups have labeled the legislation totalitarian, while some international bodies argue it breaches global conventions.
"We're putting this forward as international policy," says Sebastian Sabini, president of the parliamentary commission created to debate the bill. "The war on drugs has failed. There are more consumers and more violence."
"Uruguay is opening up a new path," he says.
Pushing the envelope
Uruguay is often overshadowed by the far larger economies of its neighbors Brazil and Argentina. But the country has made a name for itself with a long history of pushing the envelope on social issues.
---