How will the FARC-Colombia peace talks impact Latin America?
Ridding Latin America of the FARC could mean a better business climate, reduced tensions between Colombia and its neighbors, and space for the rise of a new left in Colombia.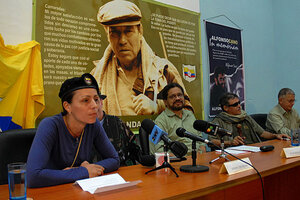 Jorge Pérez/Prensa Latina/AP
If the Colombian government succeeds in reaching a peace deal with the Revolutionary Armed Forces of Colombia (FARC), it will put to an end one of the longest standing armed conflicts in the world.
Successful talks, the second round of which are set to kick off tomorrow in Havana, would have huge implications for Colombia, which has suffered nearly a half century of civil strife, and be a clear boon to the administration of Colombian President Juan Manuel Santos. But it would also have wide-reaching consequences for the region as a whole economically, politically, and even in terms of security.
Any agreement would be complicated, and not immediate. But ridding Latin America of the FARC could mean a much better business climate, not just in rural Colombia where the FARC have their stronghold but for the region overall. It could reduce tensions between Colombia and its neighbors, Venezuela and Ecuador. And it could allow a new left to rise in Colombia, which would bolster the trend across the region. Could it even have an impact on crime levels in Mexico and Central America? Some say yes.
---