Putting a price tag on violence against women in Latin America
A first-of-its-kind study quantifies the intergenerational price tag of domestic violence. In a region of emerging economies, where GDP growth is paramount to success, could this motivate policymakers?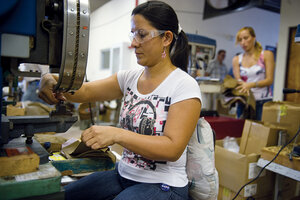 Alfredo Sosa/Staff
Authorities have opened all-women's police stations in Brazil for victims of domestic violence to seek help. NGOs have produced soap operas in Nicaragua to teach young men to live violence-free lives. In El Salvador, a women's group painted proclamations on the facades of homes in Suchitoto declaring them "free of violence against women," as a zero-tolerance, public pressure campaign.
But now a first-of-its-kind study is underway that could have the greatest public policy implications: quantifying the intergenerational price tag of domestic violence.
Previous studies have looked at the cost of lost productivity of women who are victims of violence in various countries in the region – finding losses of anywhere between 1.6 to 4 percent GDP. But this new study, called "Causal Estimates of the Intangible Costs of Violence Against Women in Latin America and the Caribbean," aims to look at the future losses associated with their children.
"This is the first time that a study tries to [look at] the costs of the next generation. That is what is really new," says Gabriela Vega, a leading specialist in domestic violence at the Inter-American Development Bank, which is funding the study. "This could prove that the next generation of the labor force is also at risk. Not only women but men."
---