Colombia: Peace talks resume, but local hope dampens
Both the FARC and the Colombian government say they are pleased with peace negotiations so far, but citizens are losing faith. Violence continues and many feel excluded from the process.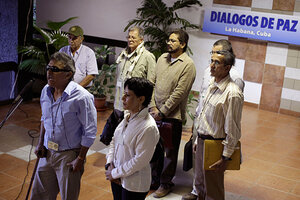 Enrique De La Osa/Reuters
Negotiators for the government of Colombia and leftist rebels resumed talks in Havana, Cuba this week to try to end this country's intractable war, but the hopes for peace for Colombians at home have been dampened.
An opinion poll published last week showed that support for the talks among Colombians had dropped from 77 percent in September just after President Juan Manuel Santos announced the negotiations, to 57 percent in late November. And 54 percent of respondents to the poll by Ipsos/Napoleón Franco said they were pessimistic about the outcome of the talks.
This, despite the fact that both sides of the negotiating table have said they are pleased with the way the talks are unfolding. Mr. Santos called the first round, which ended Nov. 29, "positive."
But Bogotá restaurateur Orlando González says that because so little information is known in Colombia about what is being discussed behind closed doors, "there's a feeling they're making deals behind everyone's back."
The government has stressed the need for discretion and has been cautious about giving statements, while rebel negotiators from the Revolutionary Armed Forces of Colombia (FARC) have taken advantage of the media attention. According to the poll, 56 percent of Colombians disagree with the government's private handling of the talks.
---