Is Iran's presence in Latin America a threat? The White House says yes.
When the White House signed a law countering Iran in Latin America recently, it was the most public strategy to date against Iran's influence in the region.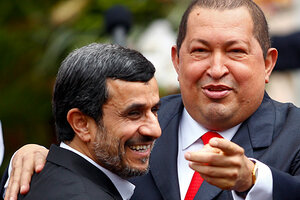 Carlos Garcia Rawlins/Reuters/File
When the US government signed into law the Countering Iran in the Western Hemisphere Act, the United States was quickly criticized for being stuck in the past.
The law was the White House's most public strategy to date to counter Iran's influence in the Americas, and gives the State Department 180 days to draw up a plan to "address Iran's growing hostile presence and activity." The US received prompt criticism from Iran who said the US "still lives in the cold-war era and considers Latin America as its backyard."
"It is an overt intervention in Latin America[n] affairs," said Iran's foreign ministry spokesman, Ramin Mehmanparast, quoted in Al Jazeera.
Iran is increasingly isolated as it forges ahead with a nuclear program that has raised alarm across the globe. Iran says its nuclear development is for civilian purposes, like energy, while many international observers believe it is working toward creating a nuclear weapon. In the same time period, Iran's growing influence in Latin America, especially within Venezuela, Bolivia, and Ecuador, has generated suspicion among those who worry that, at worst, Lebanon-based Hezbollah and supporters in Iran seek to attack the US from south of the American border. Many have called on the US to prioritize this new international threat.
---