US expels Venezuelan diplomat as Ahmadinejad makes Latin America tour
(Read article summary)
Venezuela's consul general to Miami was expelled today amid accusations that she assisted with a cyberattack – coordinated by Iran, Cuba, and Venezuela – against the US.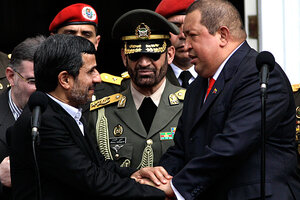 Ariana Cubillos/AP
The Obama administration asked a Venezuelan diplomat based in Miami to leave the United States by Jan. 10, potentially straining US-Venezuelan relations further as Iran and Venezuela grow closer.
The expulsion corresponds with Iranian President Mahmoud Ahmadinejad's visit to Venezuela yesterday, the first stop on his four-country Latin America tour. Some fear Iran is using the region as a staging ground to attack US interests, an issue that's especially salient given recent Western anxiety about Iran's nuclear goals.
In December, a Univision documentary called "The Iranian Threat" linked Livia Acosta Noguera, the Venezuelan Consul General to Miami since March 2011, to a potential cyberattack coordinated by Iran, Cuba, and Venezuela against the US.
There is no indication that American officials have been able to verify Univision's allegations, reports The New York Times. Some analysts say the expulsion had less to do with the merits of the accusation than a desire by the Obama Administration to defuse Republican pressure over Iran during an election year.
---