In Venezuela, divisions over Chávez extend from parliament to the dinner table
Polarization in Venezuela got worse under Hugo Chávez, with the rifts going far beyond politics to split cities, neighborhoods, and families.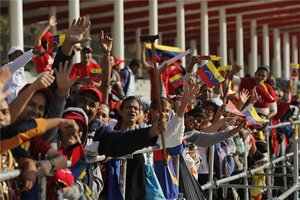 Rodrigo Abd/AP
Mourning Hugo Chávez supporters lined streets outside the military academy for a fourth straight day today, but few were grieving just a few miles away.
In the leafy, upscale Altamira neighborhood, residents shopped, sipped coffee at sidewalk cafes, and strolled in city parks.
"If you want to talk to a Chávista, you won't find one here," says Carlos Leon, a businessman. Interim President Nicolas Maduro, who was sworn in last night, "is not my president."
Meanwhile, miles to the west, the red wave of supporters, a constant since Chávez died Tuesday, again waited in line for hours to bid farewell to their beloved leader. Chants spontaneously erupted: "I am Chávez!" and "the fight continues!"
The sharp contrast between the two scenes underscores an important, if perhaps obvious, fact: Chávez left behind a deeply divided country. His socialist policies earned supporters and enemies. He both raised people out of poverty and chased Venezuelans into self-imposed exile. In his 14 years in power, he proved to be both divisive and wildly popular – repeatedly winning elections by wide margins.
"The polarization in Venezuela was there before, but it only got worse under Chávez," says Carlos Romero, a political analyst at Central University of Venezuela in Caracas. "Instead of striving for a consensus, he reinforced a rigid political alignment."
---