An early warning system for Latin American coups?
(Read article summary)
The Organization of American States proposes setting up an alert mechanism to avert future coups in the region, but the idea is fraught with challenges.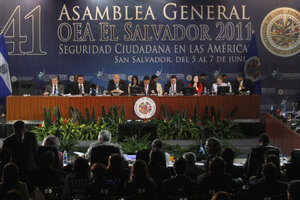 Luis Galdamez
Among the proposals at the Organization of American States (OAS) General Assembly meeting this week in El Salvador was for an "early warning system" related to potential coups and disruptions of democracy. Colombia, Honduras, and El Salvador made proposals for such a alert system, while Chile appeared to back a similar approach.
Sounds like a great idea. It would certainly have been better to prevent the coup in Honduras than to try to deal with the consequences after it occurred. Unfortunately, the details and implementation of such a proposal are harder than they first appear.
Here are some of the questions facing such a system:
How early should a warning be made?
What information (public or private) is the basis for the warning?
What is the threshold for a warning? Do rumors matter?
How does the OAS prevent presidents from abusing the warning system to attack or degrade their political opposition?
What sorts of actions (other than strongly worded statements) can the OAS take once a warning is given?
Let me give a few examples from the past few years in Latin America that show how difficult this would be:
---