United States to restore aid to Honduras in step toward normalized ties
In Guatemala Friday, Secretary of State Hillary Clinton moved to restore aid to Honduras six months after it was cut in response to the country's refusal to reinstate ousted former president Manuel Zelaya.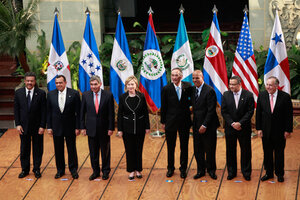 Pablo Martinez Monsivais/AP
Six months after the US cut aid to Honduras following its refusal to reinstate ousted leader Manuel Zelaya, Secretary of State Hillary Clinton made a first step toward normalizing relations with Honduras this week when she announced the United States would be restoring $37 million in aid.
"We think it's time to move forward and ensure that such disruptions of democracy do not and cannot happen in the future," Secretary Clinton said at a meeting of foreign ministers in Costa Rica on Thursday. "Honduras has taken important and necessary steps and they deserve the recognition and normalization of relations."
The announcement comes at a time when most of Latin America continues to reject the legitimacy of the current government. Honduras was not invited to a recent gathering of heads of state at the Rio summit in Mexico and its membership in the Organization of American States (OAS) has yet to be restored.

"The decision made by Secretary of State Hillary Clinton is something very positive," says Jaime Daremblum, a Latin American expert at the Washington-based Hudson Institute. "It's the first step in something that is long overdue.
---