Who is overseeing Mexico's economy?
(Read article summary)
Mexico's central bank governor is on a whirlwind tour in his bid to head the IMF. Mexico's finance minister says he's eyeing the presidency. Critics say all that campaigning leaves an economic void.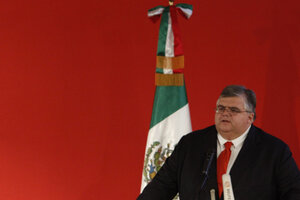 Issei Kato/Reuters
Mexico's central bank governor announced he was running to head the International Monetary Fund in late May. Four days later Mexico's finance minister said he had aspirations to be the country's next president.
In a single week Mexico's two most important economic officials had set their sights on higher office. And the country took notice: News programs and columnists weighed in on their chances at beating opponents but also raised concerns that their distraction could threaten the nation's economic stability. In the month that followed, central bank Governor Agustin Carstens spent much of his time on a whirlwind tour of nations with large voting shares in the IMF. He was in Japan on Friday.
Finance Minister Ernesto Cordero remained at his post in Mexico and said he would not be campaigning for now. But the Eurasia Group today predicted he will soon step down to focus on his candidacy. And his speeches have already taken on a different tone. Many have focused on sweeping statements about the current administration's accomplishments or tried to clarify those statements after the press picked them apart and ridiculed them as if Cordero were already a presidential candidate. Elections are not until July 2012.
Neither aspiring leader has come any closer to reaching his goal - Carstens has admitted he is a long shot for the IMF post and Cordero is still not polling among the top five presidential contenders.
---