Brazil's high court OKs 'Marijuana Marches'
(Read article summary)
The court ruled in favor of 'Marijuana Marches' as an expression of free speech, overturning several state bans. A wide array of free-speech activists joined one such march this weekend.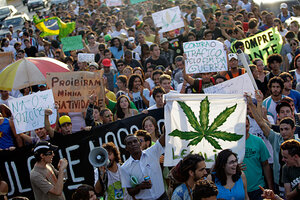 Ueslei Marcelino/Reuters
Calls to change the strategy of the so-called "war on drugs," coined by former US President Richard Nixon 40 years ago, have been growing across the globe. The Global Commission on Drug Policy just released a new report calling for alternative strategies, like legalizing marijuana.
But here in Brazil, it was unclear whether those who agree with the commission's recommendations would have the chance to voice their agreement with legalization – even as their well-regarded former president Fernando Henrique Cardoso chaired the commission.
Several anti-prohibition marches have been banned by state governments since 2008, based on an interpretation an article of the Brazilian penal code, which gives fines and up to six months in jail for those involved with "apologies for crime or criminals." São Paulo police had broken up one such demonstration three weeks ago with tear gas.
---