'Tinha' Carvalho uses martial arts to show kids from Rio slums a wider world
A celebrity gym owner in Rio de Janeiro teaches martial arts to entice kids from the favelas to stay in school.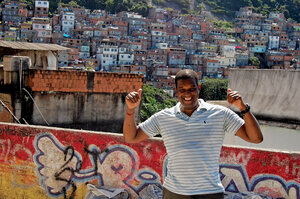 Taylor Barnes
Celebrity trainer Ricardo "Tinha" Carvalho will not budge on the price to become a member at his gym: one report, signed by the school principal, proving that the child is regularly attending class.
That's a privilege Mr. Carvalho, a high school dropout in a family of 10, didn't have himself growing up.
On his gym wall hang the pictures of his career's "peak moments": a chummy photo with popular former Brazilian President Luiz Inácio Lula da Silva and another with Kevin Richardson, formerly of the Backstreet Boys pop singing group, who trained with Tinha while on vacation here. But when Tinha reached the status of local celebrity himself, he chose to turn his time and money back to the poor communities he first called home.
As the youngest child in a family living in a small favela (shantytown) house on a steep hill behind the Ipanema beach neighborhood, Tinha had dropped out of school in his mid-teens to make early-morning deliveries for a local bakery.
"I snuck milk and bread [to eat because] sometimes I myself was delivering bread without having eaten breakfast," the now-hulk-of-a-man says laughing. His dad was a doorman and his mom was a maid.
"Everyone my age [in the favela] either entered into crime or found something to do," he says. "But my mom ... always showed what was right and wrong."
Tinha recalls hearing early-morning shootouts between rival drug traffickers as he descended his morro (hill, common Rio slang for its hillside shantytowns) down to the asfalto (the wealthier neighborhoods on paved ground below). Though he later returned to school to earn his high school equivalency, he still takes classes to try to improve his written Portuguese.
---