Rio's shantytowns shrink – on Google Maps, at least
Rio de Janeiro has complained for years that Google Maps overstates the size of the city's favelas or shantytowns. It's one of many diplomatic disputes worldwide over Google's online maps.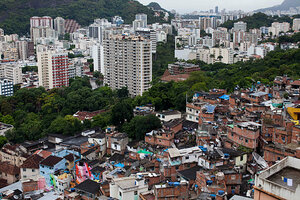 Rodrigo Abd/AP
Google's decision this week to dramatically amend its map of future World Cup and Olympics host Rio de Janeiro boils down to one person: the wife of a newspaper editor who was trying to find a shop.
While Rio's tourism officials complained as early as 2009 that Google Maps exaggerated the size of the city's slums, it wasn't until the main daily newspaper O Globo took on the topic that Google actually responded.
The weekend article in O Globo – "Google Maps turns Rio into an agglomeration of favelas" – noted that the size of letters to indicate favelas (shantytowns) was often the same as those for the larger, wealthier neighborhoods they bordered. By Tuesday, the paper reported that Google had agreed to change its maps within the year.
It's one of many diplomatic disputes worldwide over Google's online maps, but the new agreement to prioritize Rio's wealthy neighborhoods and tourist points is opening the search engine to complaints that it is bowing to media and commercial pressure.
"From my perspective, what's happening is Rio is asking the map to be remade so people coming in for the World Cup and Olympics won't think it's a city of slums," says Jason Farman, professor of American Studies at the University of Maryland and the author of "Mapping the Digital Empire," which looks at the impacts of social media on global borders. "[They] want to minimize the poor and delineate them into a smaller space on the map."
---