Caught in the Thailand-Cambodia crossfire: Preah Vihear temple
In the two years since Preah Vihear temple was designated a World Heritage Site, repeated firefights across the Thailand-Cambodia border have taken a heavy toll on the ancient spiritual site.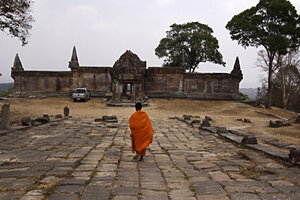 Heng Sinith/AP
All was quiet on the Thailand-Cambodia front Tuesday, for the first day since fighting erupted five days ago along their disputed border near the 11th century Preah Vihear temple.
Crossfire has killed at least five Cambodians and two Thais and injured dozens more soldiers and civilians since skirmishes broke out Friday. Each side blames the other for instigating the fight.
Yet another victim is the 1,000-year-old temple itself, which has withstood repeated shelling over the past 2-1/2 years since the temple was recognized as a World Heritage Site under Cambodian jurisdiction, joining the ranks of The Great Wall of China and Machu Picchu in Peru. It was among the most contentious heritage list applications ever, according to Giovanni Boccardi, UNESCO's chief of unit for East Asia and the Pacific.
"Because of the border issue, I believe that we can rank it among the most difficult," he told The Cambodia Daily in July 2008. "The question was not simply to demonstrate its value but to understand the implications of its inscription for management and ensure that the parties concerned would be ready to cooperate for its protection."
---
Follow Stories Like This
Get the Monitor stories you care about delivered to your inbox.