Tensions erupt as Thailand, Cambodia exchange gunfire at disputed border temple
(Read article summary)
Clashes near a temple on the Thailand-Cambodia border wounded at least two Thai troops today. Each nation claims land around the World Heritage Site.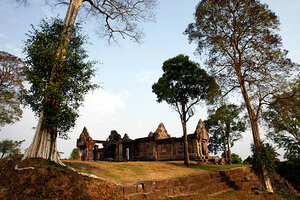 Chor Sokunthea/Reuters
• A daily summary of global reports on security issues.
Cambodia and Thailand exchanged gunfire today on their contested border after months of escalating rhetoric boiled over. The disputed patch of land – just 1.8 square miles – surrounds a 900-year-old Khmer temple recently designated a World Heritage Site, although in the past three years it has become less of a tourist destination than a hot plate for nationalist sentiments.
Witnesses said Thai troops at 3:10 pm local time attacked a nearby Buddhist pagoda claimed by Cambodia, according to the BBC. Cambodia's government spokesman and Information Minister Khieu Kanharith told the Associated Press that Cambodian troops fired warning shots to stop Thai troops from crossing into the territory and that Thai soldiers returned with fire. Two or three Thai soldiers were wounded in the Friday afternoon exchange, a Thai military source told the Bangkok Post.
Reuters reported that Thailand's Army chief says the shoot-out was a "misunderstanding" and military officials were in contact.
Troops and armored vehicles have clustered on the border throughout the week, according to the BBC.
---