Brazil's economic outlook a mixed bag
(Read article summary)
The simultaneous increase in taxes and the value of the real has put greater pressures on business, particularly the manufacturing and industrial sectors, both of which have become less competitive.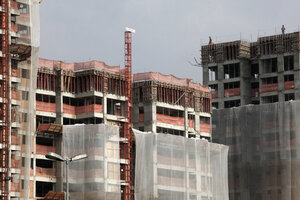 Nacho Doce/Reuters
With the US teetering at the precipice of default, countries around the world are struggling to understand how they might be affected. Brazil's current economic situation is a mixed batch: on the one hand, it is stable and flush with reserves (about US$350 billion); on the other hand, investors looking to diversify out of the dollar may be lured to the Brazilian markets because of the country's high interest rates, putting further pressure on the much sought Brazilian real. While undoubtedly a downer for the manufacturing sector, a stronger real might bring about the conditions needed for long-awaited tax and labor reforms to occur.
A Strong real, the Dollar, and Inflation
The first semester of 2011 saw more than 30 billion real (about $19 billion) surge into Brazil, looking to cash in on some of the highest real interest rates in the world. This amount even compensated for Brazil's trade deficit, which has gone strongly negative because of high domestic demands for imports, driven by the surging Brazilian real.
Investors have forced up the real's value, but so too have continuous demands for Brazil's commodities (driven mainly by China) — the currency has appreciated by more than 35 percent since 2005. Ironically, the government's principal means of combating inflation — now running at 6.5 percent — is to raise interest rates, which further increases the flow of investment money into Brazil, putting upward pressure on the real.
Interestingly, just as the international markets appear to be dumping dollars, many Brazilians have been doing just the opposite. My mother-in-law had to order dollars a week in advance; the strong real and uncertainty about inflation is prompting many Brazilians — ironically — to buy dollars.
Manufacturing Sector Ekes out a Margin while Government Gets Fatter
---