The evolving identity of Brazil's middle class
(Read article summary)
Defining who is 'middle class' in Brazil is a complex task, as the country's traditional middle class often sees itself as at odds with the new middle class.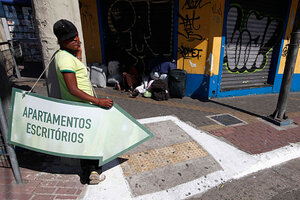 Nacho Doce/Reuters
Last week, when I wrote about Brazil's new middle class, I included figures that show that this group, largely the C class, is a much different middle class than an American or European one. With monthly salaries between 1,000 and 4,000 reais, or $631 and $2,526, income is just one facet that defines this new mass of consumers. In fact, identity is at the heart of the evolving socioeconomic spectrum in Brazil, as Brazilians try to redefine themselves within a rapidly changing country.
Defining who qualifies as middle class not only depends on the source, but even Brazilians themselves can't seem to decide. According to a recent survey by Data Popular, only a third of those who are considered in the C Class defined themselves as middle class; the other two-thirds defined themselves as "lower income or poor." While most low-income workers defined themselves as such, 55 percent the upper class defined themselves as middle class.
Traditionally, the middle class was something different entirely, and something closer to upper class than working class. There's entertaining insight to this traditional middle class online, with blogs like Class Média Sofre and The Classe Média Way of Life, that mock the tendencies and habits of this group of people. This socioeconomic class would be closer to the B class today: educated professionals who own their homes or rent relatively expensive real estate, who pay for private health care and education, take international vacations, buy name brand clothing, have a full-time maid, and maybe own or rent a second home in the mountains or at the beach. It's a group with disposible income, but one with a heavy tax burden. They tend to be sophisticated and worldly; they likely speak another language, at least on a basic level. The new middle class, on the other hand, has lower levels of education, and tend to be first-time homeowners. They may be taking their first trips abroad, and buying their first washing machines or flat screen TVs. They might send their children to public school, or if they can afford it, to less expensive private schools. They tend to be newer to technology and the internet, and they're far less likely to speak another language.
---