Monterrey casino tragedy worsened by lax safety regulations
(Read article summary)
The Casino Royale fire in Mexico may have been sparked by organized crime, but if proper safety regulations had been in place, the tragedy could have been minimized.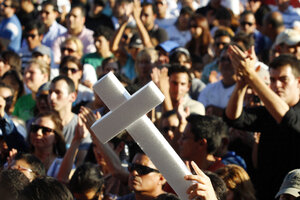 Carlos Jasso/Reuters
The tragic casino attack in Monterrey has raised all sorts of interesting questions and commentary about Mexican President Felipe Calderon's security policies, US drugs and weapons policies, the role of casinos in organized crime, and whether such an attack constitutes "terrorism." All those interesting topics will overshadow a more boring but important debate that Mexico should be having over building regulations and safety inspections.
Whether by arson, cigarettes, kitchen fire, or lightning strike, fires happen. There is no reason that a casino in a major metropolitan area like Monterrey should go up in flames so quickly while the majority of those inside cannot escape. What sort of materials were used in its construction? Where were the fire extinguishers and sprinkler systems? If this building wasn't up to code, then the question is why was it allowed to be open and who in the government failed in their duty to check on it? If it was up to code, then Monterrey and the federal government need to start revisiting those codes and updating them.
---
Follow Stories Like This
Get the Monitor stories you care about delivered to your inbox.