After dramatic 2011 in Cuba, will US-Cuban policy shift in 2012?
(Read article summary)
Guest blogger Melissa Lockhart reviews a year of what she calls big change in Cuba, little change in US policy.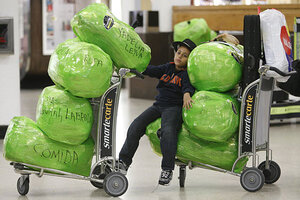 Lynne Sladky/AP
This year in Cuban history will be viewed as a significant one, having seen more economic change and reform on the island than some entire decades. Yet Washington's response has been minimal.
Let's start with a brief summary of the past year. In January 2011, the executive branch of the US government announced and published new travel and remittance rules with respect to Cuba, which increased possibilities for people-to-people travel. The effect has been gradual (OFAC in the Treasury is under-staffed and really quite slow), but greater numbers of cultural travel groups have received the necessary licenses and are leading trips to the island because of the new rules.

February and March saw the trial of the infamous violent Cuban exile Luis Posada Carriles, and a historic step in the US to prosecute him for terrorist acts in Cuba (he was later acquitted, to the chagrin of many Cuba-watchers). Alan Gross, the USAID contractor who remains in jail in Cuba, was ultimately sentenced in March to 15 years in prison — a relationship-damaging development that has continued to be a point of great contention between Washington and Havana.
---