Iran is not the only 'pariah' looking to Latin America
(Read article summary)
Taiwan courts continued recognition as an independent country from select Latin American nations, while Iranian president Mahmoud Ahmadinejad tries to bolster ties to regional allies.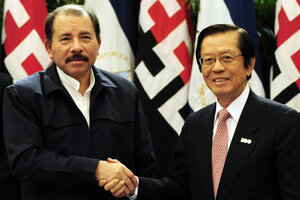 Jorge Cabrera/Reuters
Over the next week, an important leader from a widely rejected government will be touring Latin America looking to shore up his country's international legitimacy in the face of increasing pressure and rejection.
Obviously, I'm talking about Taiwanese Foreign Affairs Minister Timothy Yang.
The inaugurations of Presidents Daniel Ortega in Nicaragua and Otto Perez in Guatemala are an opportunity for Taiwan to send a high-level delegation to Central America and the Caribbean and shore up support in the few remaining countries that continue to recognize its legitimacy as an independent country. Yang began his trip in St. Lucia, which changed its recognition from mainland China to Taiwan in 2006 and has been generously rewarded with infrastructure projects since that time. With concerns that Nicaraguan President Ortega has considered changing recognition and Guatemala is getting a new president whose views on the China/Taiwan issue aren't particularly concrete, this is a serious trip for Taiwan to hold its ground in Central America.
---