Peru captures rebel leader. Is this the end of the Shining Path?
(Read article summary)
President Ollanta Humala declared the Maoist guerrilla group is no longer a threat after the capture of Comrade Artemio, reports guest blogger Hannah Stone.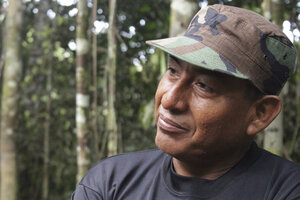 IDL Reporteros/REUTERS
• A version of this post ran on the author's site, Insightcrime.com. The views expressed are the author's own.
The capture of "Comrade Artemio," one of the last of the Shining Path rebels' old guard to remain at large, is a security success for Peru's government, but is unlikely to affect the country's burgeoning drug trade.
On Thursday, the news emerged that Artemio, whose real name is Florindo Eleuterio Flores Hala, had been seriously wounded in the early hours of the morning. Some reports (most links are in Spanish) said he was shot by his own bodyguards, who were working for the authorities, though others said he was hit in a confrontation with the police.
He was found on Sunday morning by a military patrol, lying gravely wounded in a hut near the river Misholla, in Tocache province, San Martin region. Later that day he was flown by military helicopter to Lima. As the veteran guerrilla fighter was carried on a stretcher into a police hospital, his hands heavily bandaged, he shouted some unintelligible words and raised a fist to the watching press.
---