Venezuela's fourth prison riot in two years raises questions
(Read article summary)
Venezuela's Uribana jail riot highlights the need for proper training of security forces assigned to prisons and addressing overcrowding by bringing prisoners to trial, writes WOLA.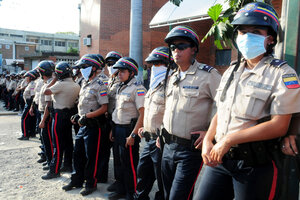 Misael Castro/El Informador/AP
• David Smilde is the moderator of WOLA's blog: Venezuelan Politics and Human Rights. The views expressed are the author's own.
On Friday Jan. 25, an attempt by the Venezuelan National Guard to occupy and search the Uribana prison in Lara state resulted in 55 deaths (including one guardsman and two visiting evangelical pastors) and 88 injured.
The local newspaper in Lara state said the authorities promised that the procedure [to disarm prisoners] would take place peacefully. However, the first shots were heard at 10:05 AM, and at 10:30 the first ambulance with victims arrived at the local hospital. The firefight lasted several more hours and [by the next day] the authorities said they did not have full control of the prison.
This is the fourth occurrence of such violence in less than two years (see our posts from last July here and here). In June and July 2011 a standoff at El Rodeo prison outside of Caracas left at least 25 dead (family members say 100 are still unaccounted for). In May 2012, a standoff between prisoners and authorities in La Planta prison in Caracas left at least 9 dead. And in June 2012 a prison conflict in Merida left 17 dead. What is different in this case is simply the number of dead. That said, at least in the El Rodeo and La Planta conflicts, family members and activists suggest that many more are still unaccounted for so the number of dead in those cases cannot be considered final.
---