North Koreans give New York Philharmonic a standing O
Tuesday's concert was a rousing success. Now, rock guitarist Eric Clapton has been invited to play in Pyongyang.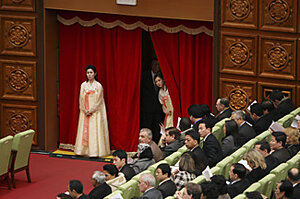 David Guttenfelder/AP
Cold war foes the United States and North Korea enjoyed a rare moment of harmony Tuesday when the New York Philharmonic played an unprecedented concert in the hermit state.
An audience of North Korea's communist elite gave America's oldest orchestra a standing ovation after a rousing set that took in Dvorak, Gershwin, the US and North Korean national anthems, and a Korean folk song. Some Philharmonic members were so overcome they left the stage in tears.
North Korean leader Kim Jong-il did not attend.
But the country's sole television station broadcast the concert live to a population taught to view all things foreign with deep suspicion.
Who's next? The Financial Times says British rock guitarist Eric Clapton has been invited to play.
---
Follow Stories Like This
Get the Monitor stories you care about delivered to your inbox.