Disaster may loosen junta's grip in Burma (Myanmar)
A May 10 poll could underscore how unpopular the regime is, as it slowly opens to foreign aid.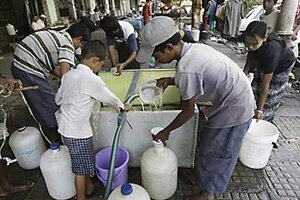 AP
The first test of how the people of Burma (Myanmar) view their government's slow response to the devastating May 3 cyclone could come Saturday.
A previously scheduled vote on a new constitution will be held nationwide, except in the hardest-hit areas. While recent natural disasters in Indonesia and Pakistan have altered the political landscapes in those nations, few analysts expect cyclone Nargis to significantly shake – let alone topple – the military regime. But the Burmese government's reliance on outside assistance could lessen its diplomatic isolation, and popular resentment over how the regime has handled the disaster could further undermine its legitimacy – and even push it to compromise with opposition groups.
"This is an opportunity for opposition groups to make limited gains," says Thitinan Pongsudhirak, head of the Institute of Security and International Studies at Bangkok's Chulalongkorn University. "There will be mounting pressures on the government because of its inadequacies. Opposition groups have the upper hand." The disaster could also foster political reconciliation between Burma's government and the outside world, following a pattern from other natural disasters from Pakistan to Indonesia, experts say.
---