China moves quickly in quake zone
The country's deadliest quake in three decades hit central China Monday.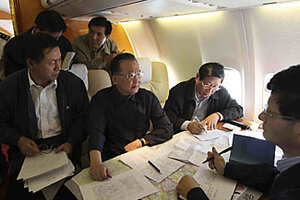 Xinhua, Yao Dawei
As the death toll from Monday's earthquake mounted, China threw its Army into rescue operations – reflecting the priority that Beijing has increasingly put on efficient disaster relief.
The country appears to be well prepared for such an operation, says Roger Musson, a seismologist at the British Geological Survey in Edinburgh. "They are very good at putting together a disaster relief plan rather quickly."
More than 6,000 soldiers and militarized police were dispatched to the disaster area, carrying out standing orders in the event of an earthquake, a military spokesman said.
The next few days will reveal to what extent buildings in this part of central China were equipped to withstand a disaster such as this – the country's deadliest since 1976 with at least 8,500 dead as of press time.
Prime Minister Wen Jiabao, who flew to Chengdu, the provincial capital of Sichuan, less than two hours after the quake hit, told reporters en route that government leaders have "asked officials at all levels to be at the front line of the fighting the earthquake and lead the people in their rescue work."
"I believe we can certainly overcome the disaster with the public and the military working together," he added in a televised statement.
Vast improvements in disaster relief
---