Volunteers flood in but China quake toll rising
In one Sichuan town, Chinese relief workers fill the streets as the overall death toll nears 15,000.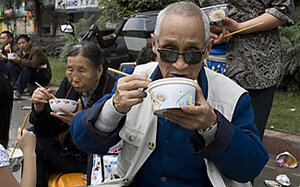 Ng Han Guan/AP
Both the horror and the hope engendered by natural catastrophes were on display here Wednesday in one of the towns worst hit by the earthquake that has claimed at least 15,000 lives in the southwestern Chinese province of Sichuan.
The horror lies not just in the death toll, though that is rising by the day.
It lies, rather, in the despair in Liu Ping's dark eyes as he wheels the body of his only son up the main street of this devastated town on Wednesday afternoon.
The hope emerged in a wave of community solidarity that has flooded Hanwang with volunteer relief workers eager to alleviate the suffering.
The awfulness lies, too, in the manner in which a woman, who identifies herself only as Mrs. Wu, chips with a small iron bar at the huge pile of rubble that had been her home, searching for a few pieces of clothing.
"All I have left now is what I am wearing," she says.
It lies in the exhausted voice of a local official as he explains to a hysterical woman that he does not have enough men to excavate the ruins where she is convinced her family is trapped.
"We must all coordinate the rescue effort together," Xu Wenchun insists.
But even as hundreds of thousands of people in the stricken zone of southwest China camped out for a third night, fearing seismic aftershocks, many are being succored by the earthquake's social aftershocks.
The streets of Hanwang, some 40 miles northeast of the quake's epicenter, are swarming with volunteers, identified by yellow ribbons tied above their elbows, who have come from other towns in Sichuan to help the relief effort.
Ducking into the makeshift shelters that residents have built from plastic sheeting, parasols, matting, and anything else that came to hand, volunteers distribute bottled water, food, and medicine.
---