Thousands evacuated below China's quake lake
Soldiers work through the night to drain swelling lake formed by landslides.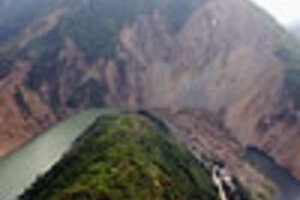 Zhu Wei/Xinhua/Reuters
Chinese officials rushed Tuesday to evacuate another 80,000 people below a lake created by a landslide in Sichuan Province.
Soldiers manned bulldozers dropped into the area by helicopter, working through the night to carve a channel in the earthen dam to drain away the threat.
The official Xinhua News Agency reported emergency workers would try to complete the evacuation by midnight Tuesday, bringing the number of people moved out of the threatened valley to almost 160,000, from more than 30 townships.
The Tangjiashan lake, formed when a massive landslide blocked a river, is one of dozens of fragile dams created by the May 12 earthquake. Chinese officials say that 28 quake lakes posed a risk to human lives. Xinhua reported that a total of 379 damaged reservoirs were still "high risk."
Soldiers hauled explosives through the mountains to reach the area, and the official China Daily said Tuesday on its web site they were "preparing to dynamite the barrier." State television showed live footage of heavy earth-moving equipment being used to carve out a 200-yard channel to drain the water.
Chinese officials said Tuesday that 67,183 people were confirmed dead and 20,790 were still missing. Some 5 million people were left homeless by the quake, and many of them are living in tents or makeshift communities that are clustered throughout the disaster zone.
The Tangjiashan lake is one of dozens created when the magnitude 7.9 quake sent millions of tons of earth and rock tumbling into some of the region's narrow valleys. Some rising floodwaters have already swallowed villages.
Tangjiashan now holds 34 billion gallons of water and was rising by more than three feet every 24 hours, according to Liu Ning, chief engineer at the Ministry of Water Resources.
Xinhua reported that 1,800 troops were working around the clock to remove at least 1.8 million cubic feet of debris to build the channel, which would not be completed before June 5.
---