China's bereaved parents push for accountability
Furious, they are pressing local officials to explain why so many schools collapsed in the May 12 quake, killing their children, when surrounding buildings stayed standing.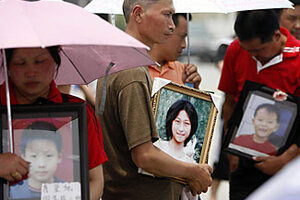 nir elias/reuters
Stung by their grief and anger, parents of children killed in two schools that collapsed in the May 12 earthquake are testing the limits of "people power" in China, challenging normally secretive authorities to give them an honest explanation of why their children died.
In Juyuan, where nearly 300 students died when their middle school crumpled, parents fed up with stonewalling by local officials plan to file a lawsuit against the school on Tuesday.
In the village of Wufu, where 129 elementary school children died, protesting parents have won a promise from the local government that some of them will be allowed to sit on the official committee investigating the disaster and monitor its work.
Skeptics in both communities doubt that either strategy will give them satisfaction. But the pressure of public outrage gives some observers hope. "If they win," says Liu Junning, an independent political analyst in Beijing, "it would be very important progress in establishing the rule of law in China."
The schools in Juyuan and Wufu collapsed when all surrounding buildings stood firm. "This was a tofu-dregs project," said one father at the Fuxin No.2 school in Wufu, using a popular Chinese term for substandard work. "We are peasants, we know nothing about construction, but look at the evidence," he added, gesturing at the ruins of his son's school. "Local officials made money off this."
Officials estimate that 7,000 schoolrooms collapsed during the 7.9-magnitude earthquake, which struck in the afternoon while classes were in session, killing thousands of schoolchildren.
When parents from Wufu staged a protest march over the children's deaths last week, a top party official in the nearby town of Mianzhu dropped to his knees before them, pleading with them not to take their complaints to his superiors. Ignoring him, they won an audience with the deputy vice mayor of Deyang, the regional seat of government.
---