Trouble brews in two Asian democracies
Newly elected leaders in Thailand and Malaysia face mounting domestic discontent.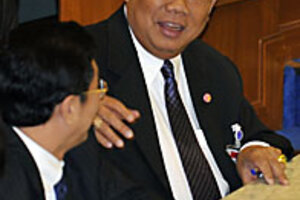 Sukree Sukplang/Reuters
Seizing on rising fuel prices and coalition-party stresses, political opponents are pushing to unseat the leaders of two Southeast Asian democracies, only months into their elected terms, raising the prospect of prolonged instability and social tension.
In recent weeks, both Thai Prime Minister Samak Sundaravej and Malaysian Prime Minister Abdullah Badawi have faced mounting calls to resign.
Mr. Badawi won a symbolic vote on June 23 in Malaysia's parliament over recent pump-price hikes, after the defection of a minor coalition partner.
Thailand's opposition called for a no-confidence vote against Mr. Samak's government on a range of issues last week, including economic policies and a territorial dispute with neighboring Cambodia. Sumak survived the vote Friday.
Both prime ministers can point to popular mandates from parliamentary elections held within the past six months. But these votes, while yielding clear-cut victories, appear to have only sharpened social divisions among voters and drawing opponents swiftly back into the fray. Analysts say the resulting turmoil is testing democratic institutions and straining tempers in the two countries.
---