Unofficial schools aim to boost prospects of China's migrant children
Xingzhi School in Beijing teaches nearly 1,200 kids not allowed to attend public school say their migrant-worker parents lack residency permits.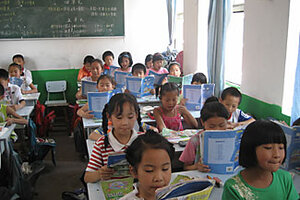 Anne Donohue
Guo Zhilin sits anxiously in the first row of her red-brick schoolroom. She whispers a few words to her friend and then proudly, but hesitantly, announces, "Welcome ... our ... school." She nudges the girl next to her. "This is my new friend Han Xi. She is from Anhui Province."
All of the children in this school are from provinces across China; none have legal permission to attend the Beijing public schools. Their parents are migrant workers, part of China's massive floating population, and they lack hukuo, or residency permits. So the children are here, at Xingzhi Primary School for migrant children on Beijing's western outskirts.
"I am from Shandong Province," beams Zhilin, as she adjusts her plastic headband.
It is hard to hear her over the cacophony. Zhilin and Xi share this 10-by-15-foot classroom with more than 40 students.They press against each other on wooden benches. A few arrive too late to get a seat and must lean against the back wall.
Fan Wei, their English language teacher, came here two years ago after graduating from Beijing Foreign Studies University. Ms. Fan loves her job and the children, even when they are jumping out of their seats. But it's difficult: "the older children need to start all over every time they move," she says. Fan has children ranging from age 8 to 14 in her third-grade class – a result of frequent moves. And, she adds, her students have only one book, which they must pay for themselves.
---