Thailand's political stalemate deepens
Activists have disrupted air and rail travel, and refuse to leave government grounds.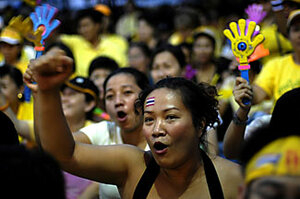 Andy Nelson/The Christian Science Monitor
By day, they listen to protest speeches, shake their rattles, and line up for free meals. By night, they bed down in the doorways of ornate buildings inside a walled government compound, guarded by their own militia against possible police attack.
A week after occupying the seat of civilian power here, thousands of Thai antigovernment protestors are digging in for the long haul. Prime Minister Samak Sundaravej – the main target of their sit-in – refuses to resign. A court last week ordered the arrest of nine protest leaders, but their lawyers are appealing. Authorities withdrew an eviction notice for protesters after clashes Friday with police, who were forced to retreat.
As pro-government supporters gather in smaller numbers in a nearby park, fears of violent confrontation are growing, underscoring deep social and political divisions. At stake are Thailand's shaky democracy and the future role of elites aligned with the monarchy and the military, whose dominance has been upended by decades of rapid social change.
In 2006, similar street protests against then-Prime Minister Thaksin Shinawatra, paralyzed the nation and led to a military coup that did little to heal these divisions. Mr. Thaksin and his wife recently sought exile in Britain after losing the first of several court cases filed over alleged abuses of power during his five years in office.
In an emergency session on Sunday, Mr. Samak berated his opponents in parliament for siding with protestors who had broken the law. He rejected a motion to dissolve parliament as a way out of the crisis.
"I want to show the world that democracy in Thailand was built to last," he said.
Two airports in southern Thailand reopened Sunday after protesters forced their closure Friday, stranding thousands of foreign tourists.
---