Paralympics bring forward plight of China's disabled
China's government only recently began addressing the needs of its 83 million disabled citizens.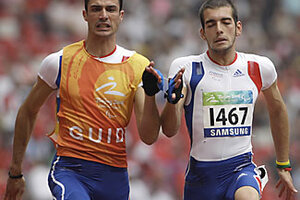 David Gray/Reuters
The Paralympic Games that opened here Saturday are drawing tens of thousands of spectators to venues across Beijing. Hardly any of them, though, are disabled.
Even at the premier global event celebrating handicapped peoples' achievements, China's 83 million disabled citizens remain almost invisible, victims of a society slow to change its attitudes and a government that only recently began addressing their needs.
Officials and activists for the disabled, however, hope the Games will give fresh momentum to changes they say have been under way for some time, giving disabled people more of a role in Chinese society.
The interest in the Paralympics shows that "society is starting to recognize the existence of blind people," says Zheng Xiaojie, who runs a small school in Beijing teaching radio broadcasting to blind students. "People's attitudes are changing a lot."
Few, however, expect the two weeks of athletic competition to spark dramatic change. "A single event cannot change people's attitudes," cautions Sun Xiande, deputy head of the government-backed Disabled Persons Federation. "It is a lengthy process."
China has embarked on that process from a low threshold. "Most of the time the Chinese don't even know there is such a thing as the disabled," says Keith Wyse, an American who cares for orphans diagnosed with brittle-bone syndrome at a foster home south of Beijing. "When we take the kids out people stare, because they have never seen anyone in a wheelchair."
---