In Japan, retired men find new role as caregivers
How one former Japanese executive built a network of senior volunteers to help their peers.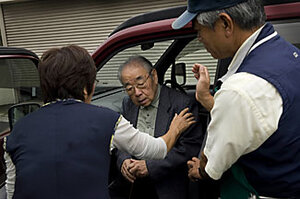 Andy Nelson/The Christian Science Monitor
When retiree Kohei Yoneyama looked in the mirror about a decade ago, he didn't see a guy ready to spend more time on the golf course.
A former venture capital executive, he remained eager for a challenge. So the dapper community leader trained his sights on one of Japan's most pressing issues: caring for the burgeoning ranks of elderly.
As more women enter the paid workforce and relatives live farther apart, older Japanese family members often don't have the support and social ties they yearn for. And Mr. Yoneyama is all too aware that many of his fellow retirees have too much time on their hands, leaving them feeling unneeded and their wives feeling frantic.
So Yoneyama and five colleagues created the Nagareyama Friendship Network. Instead of relying on younger generations, their network helps older people help themselves – by enlisting men who are finding that life after the office is short on meaningful activity.
"Care has been considered the field of women," Yoneyama notes, adding that many people expect to be passive recipients of care. But, he argues, "If you take a modern approach, that doesn't mean you just receive the care – you have to participate in it as well."
To Yoneyama, who cuts a natty figure as he races between appointments at the network's office and at city hall, people like himself offer a perfect – and largely untapped – talent pool.
As of March 2008, almost 22 percent of the population was over age 65, a figure that is expected to double by 2050. The world's oldest man lives in Japan and just celebrated his 113th birthday. More than 36,000 Japanese were born a century ago, and 13 million are over 75. Meanwhile, a plunging birthrate is eating away at traditional labor ranks.
---