Clinton eyes bringing N. Korea back to negotiating table on nuclear program
In South Korea, which she visited Thursday, fears persist that the US will move forward on ties even if the North resists verifying disablement of its weapons.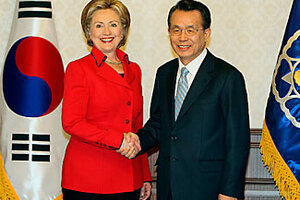 Jeon Su-young/AP
Secretary of State Hillary Clinton offered South Korean leaders firm assurances Friday of American solidarity against North Korea. She stopped short, however, of saying how the United States will respond if North Korea stonewalls on demands for a protocol for verifying disablement of its nuclear weapons program.
Mrs. Clinton preferred, over a lunch with South Korea's conservative President Lee Myung-bak and a separate session with Foreign Minister Yu Myung-hwan, to stress the need "to look for ways" to bring North Korea back to six-nation talks on its nuclear program.
As a sign of US eagerness to get North Korea to resume the talks, last held in December, she announced the appointment of Stephen Bosworth, former ambassador to South Korea, as special envoy on North Korea. Mr. Bosworth, who took over as dean of Tufts University's Fletcher School of Law and Diplomacy after leaving here in 2000, said after a trip to Pyongyang two weeks ago that he found North Korean officials receptive to returning to the table despite the harsh language of recent statements denouncing President Lee and his policies.
---