Global trade slump hits Asian labor
Many factory workers in export-heavy economies like Thailand's have lost their jobs. With agricultural demand also down, farming has become a less reliable Plan B.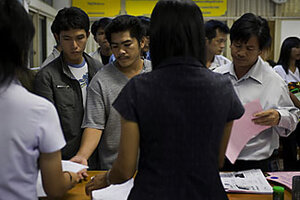 Andy Nelson/The Christian Science Monitor
When Visut Charoenchai lost his job in January in a French-owned glass factory, his mother told him to come home. There's always rice here to eat, she said.
So far, Mr. Visut, the eldest son of a farming family, is resisting. His $850 of severance pay and unemployment checks cut him some slack as he hunts for a new job, chasing dead ends in this industrial zone. When he gets bored, he goes fishing at a nearby reservoir. "I'm trying to find work in a factory, but there's nothing going," he says.
As Thailand's export-led economy goes into rapid reverse, tens of thousands are being thrown out of work, sparking fears of mass unemployment and social unrest. Similar shocks are roiling other Southeast Asian exporters that had ramped up capacity to meet credit-driven appetite in the West for cheap goods and now face a yawning gap in demand that even the fattest stimulus packages are unlikely to fill.
While recession-hit city-states like Singapore and Hong Kong can afford to take care of their unemployed, laid-off workers in developing countries have much further to fall. Malaysia predicts that 4.5 percent of its workforce – nearly half a million people – will be out of work this year, up from 3.7 percent in 2008.In the Philippines, which already has the region's highest unemployment rate, electronics and textile plants are closing.
Social security nets for the jobless are patchy. Thailand's government pays Visut half of his $160 monthly salary for six months, then he's on his own. Countries like the Philippines and Indonesia, which so far hasn't felt the full force of the global downturn, lack any national benefits system.
---