Malaysia's ruling party struggles to stay relevant with new leaders
Amid allegations of corruption and a drop in popularity, the party that has been in power for five decades tries to shore up support.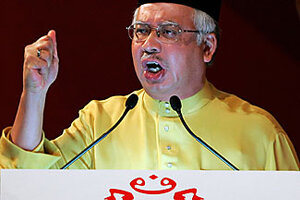 Lai Seng Sin/AP
Malaysia's longtime ruling party is meeting to select a new crop of leaders after a series of electoral setbacks. But it faces a stiff challenge to reverse a rapid slide in popularity at a time when Malaysia's trade-dependent economy is sinking into recession.
At stake is the stability of a political order that has guided the multiracial country for five decades. The United Malays National Organization (UMNO) leads a coalition government that has delivered economic development but appears unable to tackle increasing racial tensions and calls for greater freedom.
At the four-day convention, which began Tuesday, UMNO officials have hammered a message of reform and renewal in order to win back voters. But a scandal over delegate vote-buying, which led to the disqualification of several candidates, has only added to the public perception of an organization that is mired in graft and out of touch with ordinary voters.
Seizing on this weakness, opponents are turning up the heat on Deputy Prime Minister Najib Razak, who is due to replace outgoing Prime Minister Abdullah Badawi next week. By convention, the leader of UMNO becomes the country's prime minister. Mr. Najib is running uncontested for the post, replacing Mr. Badawi.
---