North Korea used dummy satellite, South Korean experts say
Their assertion boosts US view that Pyongyang used Sunday's launch to develop long-range missile technology, not to explore space.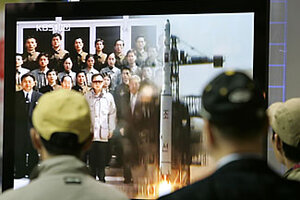 Ahn Young-joon/AP
The satellite that North Korea insists it has sent into orbit was evidently a dummy that the North manufactured to justify testing a Taepodong-2 missile, South Korean space experts say.
The apparent use of a dummy that looked like a satellite on the launch pad boosts US, Japanese, and South Korean claims that the North fired its long-range missile on Sunday to continue developing the technology rather than to pursue space exploration.
Disagreement over North Korea's motivation is one issue blocking the UN from issuing a resolution on Sunday's launch. China, which wields veto power on the UN Security Council, says it's still unclear if North Korea launched a missile or a satellite.
Scientists and engineers here disagree. "They cannot have been shooting a real satellite," says Myung Noh-hoon, director of the Space Research Center at the Korea Advanced Institute of Science and Technology, the country's leading base for science and engineering. "They did not build a satellite."
Mr. Myung, in charge of development of South Korea's satellites in his facility in the city of Daejeon, about 90 miles south of here, bases that assessment on two realities.
First, he says, in the two days since the missile was launched, we have been "trying to catch the signal from the satellite." That was not possible, he says, "because it was a dummy, not a real one."
---